News
It's Beginning to Feel a Lot Like Holiday Fic Giving
Up in the North Pole, according to popular myth, Santa is currently busy making all of the Hellmouth children's toys so that he can distribute happiness and joy in less than two months' time. Unfortunately (according to Anya's excellent knowledge of supernatural history), Santa is, in reality, a demon who uses said gifts to tempt little children into coming close so he can disembowel them. Talk about a demonic holiday Grinch. Yikes. Thankfully, our Evil Santa has been pretty quiet the last several hundred years. Until now, that is…
Now, Evil Santa is hopping on his demonic sleigh again, and it's time for Spuffy to combat him the best way they know how: by making sure we give each other our gifts this holiday season!
Thanks to a great suggestion by member Ajmilone, Elysian Fields will be hosting our very first Secret Santa fic-giving event this year. Here's how it works:
Everyone who signs up to participate in this event will write one fic and receive one fic. Each fic written should be a "one-shot" size. That is, the fic must not exceed one chapter, and the word limit maximum for a single EF chapter, and thusly it must be under 15,000 words in length. Fics do NOT need to be holiday related in any way (unless your giftee requests it!).
You will sign up using the form linked below, and input your preferences for fic writing/receiving. OffYourBird will make best case matches, and then reach out to each participant with the penname and story preferences of their "non-demony secret Santa" for whom they will be writing a fic. Please remember that this gift giving is confidential. Don't share who you have for a giftee until posting time! We don't want to spoil the fun and make Evil Santa suspicious, after all.
In order to ensure Evil Santa is well and truly put to bed (at least for this year!), all fics must be published to Elysian Fields by midnight (site time) on December 31, 2020.
Here's a full run-down of the timeline:
November 8 (Today!) --- Sign-ups open. Find the SIGN UP FORM HERE
November 22 --- Sign-ups close at midnight site time
November 23-24 --- Writing assignments are distributed to participants
December 1 --- participants may begin publishing their fics. More details regarding HOW to publish your fic will be posted here in the news section at the end of November.
December 31, 2020 --- participants must have their fics published by midnight site time
No late sign-ups or publishing will be allowed. Please only sign up if you can commit to publishing your fic by midnight on December 31. Leaving a participant giftless will put them in grave demonic danger, and we really can't have that.
Successful participation means that, not only will you get a brand new fic gift , but you'll also get a shiny new badge for your profile!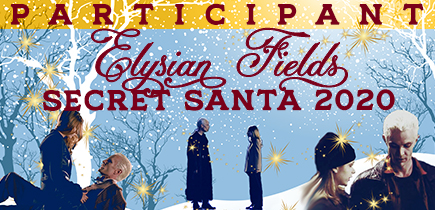 (Note: you may have someone beta your fic or make a banner for your fic if you wish, but only those EF members who sign up to write/receive will be eligible for an event participation award for this event.)
So, come and join the fun this holiday season, and help Spuffy beat back the forces of evil with our first Elysian Fields Secret Santa event!
--
OffYourBird
on November 08, 2020 12:04am
22 Comments
Comments